We left the harbor January 19th for Mexico's Sea of Cortez on our boat Victoria. This is our 4th trip to Mexico but the first on our powerboat (previous trips were on our sailboat). We left at that time of year hoping to hang with the Gray Whales in Magdalena Bay. The trip down the Baja, other than being cold, was uneventful!  We'd made arrangements for a pilot boat to lead us through the shifting entrance at the Boca de Soledad into  Mag Bay.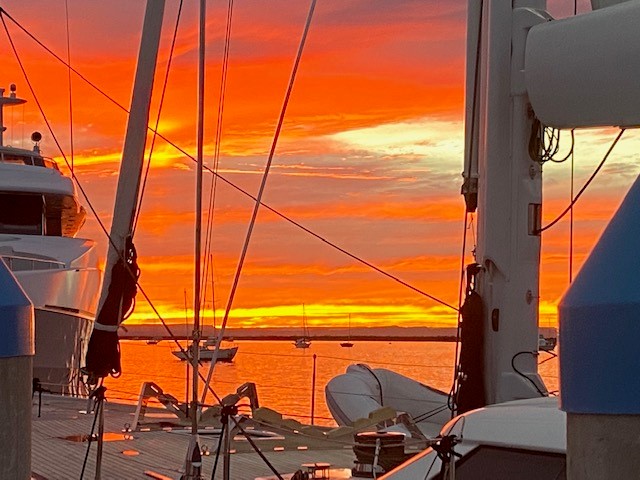 It was a little anxiety invoking with shallow waters, crashing surf and no less than 30 huge whales frolicking about at the entrance – frankly it was spectacular!  
We spent 3 weeks in Mag Bay enjoying Lopez Mateos and Puerto Magdalena. And we saw plenty of whales – Katie even pet and kissed a couple one afternoon at the Entrada near Belchers Cove!  Before heading to far into the Sea of Cortez we stopped for a week in Puerto Los Cabos and 3 weeks in La Paz. Both cities were wonderful but the "virus" was beginning to take hold. By the time we departed La Paz, Baja Sur was appropriately implementing protective measures and restrictions as was the Mexican Government. As we moved up the Sea toward Loreto the various boater nets were becoming filled with well-meaning cruisers repeating their variation of some report they had "heard." This resulted in considerable misinformation and confusion.
Having spent a fair amount of time in Mexico, our experience has always been that the people of Mexico want to help, not hurt, others. That was the case this time. Although it took a couple of days, most of the rules being put in place to confront the C19 virus were clarified AND a provision was established to help the boaters and campers who were now, for the most part, stuck in Mexico. Many towns, small and larger, put in place restrictions on visitors, that if left to stand, would mean we could not provision. At the same time, initially, there was a prohibition on entering or leaving certain harbors meaning no fuel. Another rule prohibited boats from anchoring on many of the islands. So, as initially announced, no food, no fuel, cannot enter some harbors and cannot anchor in some locations – not a good situation. But quickly Mexico set up easy to understand processes that favorably addressed all of these. They even sent their version of the Coast Guard around to distribute the information over the PA and in writing (English and Spanish).
For us the speculation and wild-minded thoughts being rapidly spread amongst the boating community became too much to stomach so we went further north to the Bahia de Concepcion (more remote). There we found a great bunch of new friends (campers and boaters) all hiding out and trying to enjoy the cards on the table so to speak. From there, with proper PPE and following the shopper rules very similar to those in the US, we were able to get all we needed from the town of Mulege.
After 4 weeks in Concepcion we decided to move 150 further north the San Francisquito which is south of Bahia de Los Angeles. We are currently underway and plan to stay there for 10 days or so before returning to Concepcion. After that, we will move south to use Marina Puerto Escondido as home base for a month. Around mid-July  Katie will hopefully be able to fly home home (Loreto airport is presently closed until the end of May) and I will meet a couple of good friends in Los Cabos to assist in bringing Victoria back to Dana Point. While certainly not the trip we'd planned, we are healthy, safe and very fortunate to be having this experience even with the various restrictions.
We look forward to seeing you at the club. Stay safe and healthy.
– Chip and Katie Prather