A Message From The DWYC Fleet Captain:
Be sure to signup early for any or all of our planned cruises.  Cruising at DWYC is all about enjoying your boat, exploring new destinations and, of course, having FUN!  We have many exciting cruises and activities planned for this year's cruising season and I know we are going to create many fun memories along the way.  Join us as we visit other harbors and reciprocal yacht clubs up and down the coast!  Power or sail, newbie or a seasoned cruiser, there's something for everyone. Click below to find out what's planned for 2021 and to sign up:
I'm always looking for a few experienced skippers to Chair a cruise or some of the away activities. If have any questions about the Fleet Calendar, or if you would like to volunteer to Chair a cruise or other Fleet event, please let me know as soon as possible.
Watch for flyers, invites and updates in you Lines & Bits, emails and around the club!
See you at the club and on the water,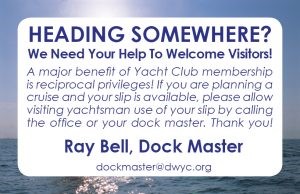 Cruise Time & Date Sign-Ups
The cruise sign–up sheets for the 2021 Cruise Calendar will be posted on the Fleet Bulletin (north side of Fireplace) starting and will be removed for cruise coordination two weeks before the cruise date.
Cruise Fee
The 2021 Cruises are a benefit of Club Membership, however, on occasion there are extra costs for bands, activities, tours, performances, etc., that may require an additional fee to participate. In those cases, the posted cruise fee must be included (preferably a check) with your sign-up. Place the fee in an envelope and place it in the Fleet Mailbox. Please be sure to include your name and boat name on the check or envelope so that you are credited with payment. When a fee applies, please remember, "No fee, no reservation".
Cruise Priorities & Applicable Fees
It's important that you signup early! If the number of cruise sign-ups exceeds the number of boats that can be accommodated at the cruise destination, those who signed up first will have priority, as long as they have paid. For those remaining, we will try to make alternative arrangements and/or they may remain wait-listed in case of cancellations. If you signed up and didn't pay, your name will be dropped to the bottom of the list below those who have paid, and therefore you will be wait-listed until payment is received.
Cruise Cancellations & Refunds
If more sign-ups are received beyond what can be accommodated, refunds will be given. If you must cancel, and expect a refund, you must cancel by phone to the Fleet Captain no later than 1800 hours two Mondays prior to cruise.
WEATHER LINKS:
Before any cruise, we suggest you familiarize yourself and crew with anticipated weather and ocean conditions.
Cruiser's Compass
A more detailed cruise itinerary, the Cruisers Compass, will be e-mailed to each cruiser on said cruise no later than the Monday preceding each cruise. With the Cruisers Compass you will also receive a cruisers roster. This information is to be protected and be used only for the people within our Club.
Communication
Remember that when you sign-up to leave on a cruise your slip may be used by another visiting club boater. Any and all changes you make must be communicated to the Fleet Captain and Dock Master.
Behavior
All Cruisers are expected to follow not only DWYC House Rules, but also the House Rules of each yacht club we visit. Remember, we are guests at each of our cruise locations and our behavior reflects on our club.
The Dana West Yacht Club board of Directors has carefully examined and approved these procedures. We believe it will be fair for all and be easy for all cruisers to follow. If "glitches" come to our attention we will do our best to fix them.