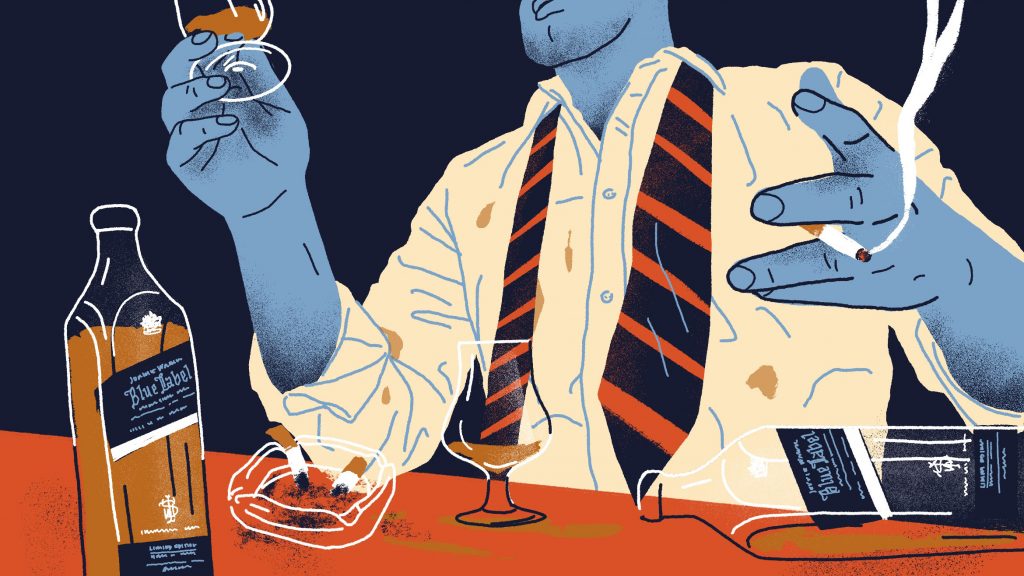 Johnnie Walker Blue Label lacks most of the attributes that excite today's whisky geeks. It's blended Scotch, not single-malt. At 40 percent ABV, it's relatively low-proof. It's available on shelves year-round. It retails for less than $200. And it has absolutely no secondary market value. But back when it debuted in 1992, none of that mattered. It may be difficult for twentysomething Pappy stans to believe, but there was a time when Blue Label was the most aspirational whisky one could drink.
"A lovely, luxurious whisky," wrote drinks critic Michael Jackson in a 2001 review for Whisky Magazine. "I imagine a restaurant called café Opera. First, a little foie gras, then a couple of Maine lobsters, Marron glacé….and Blue Label?"
If Americans spent the 1960s, '70s and '80s spurning whiskey in favor of vodka and peach schnapps, in the late '80s and '90s they refocused, led by the charge of Wall Street and Madison Avenue businessmen who were investing in status-symbol drinks, including expensive California chardonnay and cabernet. It was around that time that the first brand ambassadors from Guinness UDV (the corporate predecessor of Diageo) began to key in on this demographic through market studies.
"Whiskey dinners were [held] all over the place and the marketing executives brought back a lot of data," says Robin Robinson, a longtime whiskey salesman and the author of The Complete Whiskey Course: A Comprehensive Tasting School in Ten Classes. According to research, the ubiquitous Johnnie Walker Red and Black Labels were considered entry-level and a little too harsh for the "finance guy" palate. When Blue Label hit the market, Robinson says, it appeared to have been developed specifically for them, though the brand would point to its history as the source of inspiration.
Johnnie Walker master blender Jim Beveridge says he took inspiration from Old Highland, the brand's inaugural product, released in 1867. (Starting in 1987, Johnnie Walker sold a somewhat similar-looking product, with a blue label and box; "Oldest," a blend of 15- to 60-year-old whiskies, was phased out when Blue Label debuted.) According to product specs, only 1 in 10,000 casks are "suitable" for Blue Label, and it's rumored to contain single malts as old as 60 years with none younger than 28. Blue Label offers no age statement, however, which naysayers suspect was a method for unloading stock that had over-aged during the whisky category's fallow period from the mid-1960s to the late 1980s.
"It was fucking brilliant in its concept and its execution: bold enough to be Scotch but mellow enough that it didn't offend," says Robinson. "It was the most perfectly engineered whisky ever created to that point, a triumph of marketing and production."
Of course, the 1992 marketplace Blue Label entered into was a whole lot different than today's. The low-priced Red Label had been the world's best-selling whiskey since 1945 (and still is). Pappy Van Winkle didn't arrive until 1994 and wouldn't become a sensation until two decades later. Blanton's, positioned as a luxury bourbon, cost $24, and was considered exceedingly expensive. When the blended whisky—with a Pantone 289 C blue label slapped on a square-shaped, late-19th century-style bottle in a silk-lined box with a certificate of authenticity—landed on shelves, it was, at nearly $150, five times more expensive than anything else on the market. Its only true competition was XO Cognac, the only spirit to command more than $100 a bottle at the time.
Longtime whiskey writer Lew Bryson admits he was dismissive of Blue Label when it first hit the scene. "Not because it was blended, not because it was Johnnie Walker and not even because of the price," says the author of Whiskey Master Class: The Ultimate Guide to Understanding Scotch, Bourbon, Rye, and More. "It was because it was so obviously, blatantly, a play at being aspirational." At such an elevated price point, did the taste even matter?
Back in 1992, before bourbon had boomed, before Japanese whisky reoriented the geographical boundaries of luxury production, the idea of a status whisky was relatively new. Only Dalmore and The Macallan were attempting to release products of such prestige, though as Bryson notes, they hadn't yet resonated in America.
"Was Blue one of the 'most luxury' whiskies you could buy then?" says Bryson. "Definitely, the presence in first-class airline beverage carts nailed that." It was offered gratis on Singapore Airlines and British Airways Concorde flights alongside Dom Pérignon, and its positioning as a status symbol remains paramount. In a "Brand Identity Summary" Diageo released internally in 2018, the company delineates the ideal Blue Label consumer as "driven by prestige," worthy of "his hard-earned position and wants to live life to the fullest."
And to men of a certain age, Blue Label will always represent a specific pinnacle. It's even become a trope of 21st-century television. In season one of Curb Your Enthusiasm, Larry David's then-wife Cheryl gives their agent friend Jeff Green a bottle for landing her a role in a staging of The Vagina Monologues. In 30 Rock, Jack Donaghy, Alec Baldwin's conservative network head, stocks Blue Label on his office bar cart. And in Billions, Showtime's drama series about hedge-fund hijinks, Blue Label is situated in the modern whiskey pecking order. Where the young hotshots drink Michter's Celebration, a $5,000 bottle released in limited supply every three years, the older businessmen like Chuck Rhoades, Sr., still clink glasses full of Blue Label, a reference that is lost on some younger viewers.
"Blue Label to celebrate a huge IPO?" tweeted one man at the show's creator, Brian Koppelman, after an episode back in 2017. "I would have to imagine Charles drinking much better than $100 scotch."
For many Blue Label drinkers, the selection isn't necessarily about price—Johnnie Walker produces rarer, higher-priced bottles: the $700 King George V, packaged in a flint glass decanter, and The John Walker, a $4,500 whiskey in a Baccarat crystal decanter with a 24-carat-gold-plated neck—but the label's connection to class, money and masculinity that they grew up chasing after.
It's surely one reason Blue Label continues to be the quintessential Father's Day gift; Johnnie Walker even positions it that way, offering monogrammed bottles each June. (An early print advertisement proclaimed, "Men are judged not by their words, but by their actions.") The last time I tasted it, in fact, was on Father's Day. And, I have to admit, it was pretty good. No serious critic has ever derided it based on flavor. In 2018, Whisky Advocate gave it a score of 97—one of the highest ratings ever awarded. "Magnificently powerful and intense," wrote Jonny McCormick. "Close to perfection." Bryson, however, intentionally avoided tasting it until he came upon a free sample at WhiskyFest in the mid-aughts. For him, the liquid was good, but it still rubbed him the wrong way. "I never got over that annoyance about its positioning, and it's never been a whisky I've been able to warm to." For many others, however, Blue Label is still a peak worth striving toward.